Las Vegas Auto Insurance
The best car insurance coverage gets you and your vehicle back on the road quickly if your car is damaged or destroyed by a collision, fire, theft, or other event included in your auto insurance policy. Your auto policy also provides protection against certain health-related and legal costs resulting from injury, death, or property damage that resulting from an accident involving your car, truck or other vehicle.
Your auto insurance policy is a contract between an insurance carrier and you. In exchange for your monthly car insurance premium, your insurance carrier agrees to pay for specific auto-related claims during the period of your policy coverage.
At Asher Macrae Insurance Services, we will help you choose the best coverage, policy, and auto insurance carrier for the needs of you and your family.
What auto insurance policy is right for you?
Our local team of insurance experts understands the car insurance needs of our Las Vegas car insurance customers.
Motor Vehicle insurance requirements vary by state. In some states, to drive you must carry:
Liability coverage to pay for losses you cause others
No-fault coverage to pay you and your passengers for medical and related expenses caused by injuries from a car accident, regardless of who is at fault
Both liability and no-fault coverage.
As the Nevada car insurance experts, we would be happy to assist you to make sure you have the best car insurance coverage at the most affordable price.
Here in Nevada, by law drivers must be able to pay for losses they cause others. Proper insurance coverage is the most common way for people to comply with this financial responsibility. And to finance a vehicle, it is usually required to have insurance to cover any potential damage to your vehicle. This includes:
Collision Coverage

Collision coverage pays for damage to your vehicle as a result of an automobile crash. Standard collision coverage pays for the repairs up to the fair market value of your vehicle. Collision coverage also commonly includes an insurance deductible, which is the amount of money you pay toward repairs before your insurance coverage kicks in to pay the remainder of the damage. The higher your collision deductible, the more affordable your collision coverage will be.

Comprehensive Coverage (Other than Collision)

Comprehensive insurance coverage pays for damage to your car in some way other than a collision, like if it were stolen or vandalized. Comprehensive coverage also protects your vehicle from Floods, hurricanes, thefts, windshield damage and fires. Like collision, comprehensive will pay up to the market value of your vehicle (less your deductible.) Although it's not legally required here in Nevada, you will most likely need this type of coverage if your car is financed.
We understand every customer is unique – contact us today to get the most affordable car insurance quotes anywhere in Las Vegas.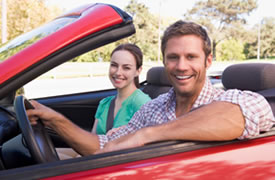 Get started now on a free, no-obligation
Auto Insurance Quote