If you live in Nevada, chances are Asher Macrae has coverage options for whatever you ride. Asher Macrae insures a wide variety of motorcycles. Including street bikes, Harley Davidsons, cruisers and touring motorcycles, dirt bikes and ATVs.
Qualify for Motorcycle Insurance Discounts
One of the top benefits of having your motorcycle insurance coverage from a major insurance carrier like the companies we represent, is that you can save money when you have more than one policy with our agency. Our agency will help determin how much money you will save. You may also be eligible to save money on your premiums if your motorcycle is stored in a protected garage, if you are a member of certain motorcycle rider organizations, or you have taken a safe motorcyle operator course sponsored by the Motorcycle Safety Foundation.
---
About Motorcycle Insurance
Motorcycle insurance policies can include any of the options below. Call us today to discover the best coverage for your motorcyle.
Custom Parts and Equipment
With custom parts coverage, you will receive up to a specifiied dollar amount in coverage without any additional costs.
Motorcyle Roadside Assistance
Your motorcycle insurance coverage can provide roadside assistance benefits up to $300 per breakdown.
Motorcycle Liability Coverage
Our insurance carriers offer motorcyle liability limits high enough to satisfy Personal Umbrella requirements. This means you can be eligible for this additional coverage. Here in Nevada, certain coverages are automatically included at the same limit as your liability selection. Asher Macrae works with several insurance companies so we can give you multiple motorcycle insurance options at affordable rates.
Medical Coverage
Motorcycle medical coverage provides for certain medical expenses incurred by you or any passenger or your motorcycle resulting from a motorcycle accident.
Uninsured/Underinsured Motorist Coverage
This protection covers expenses associated with injury or death resulting from an accident that was caused by an uninsured or underinsured driver. In some cases it may also cover hit and run accidents and situations where you are hit as a pedestrian.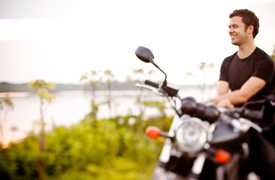 Get started now on a free quote for
Motorcycle Insurance